Christo Sevov, PhD, assistant professor in the College of Arts and Sciences Chemistry and Biochemistry department, has earned The Ohio State University 2023 Early Career Distinguished Scholar Award. Senior leadership in the Enterprise for Research, Innovation and Knowledge surprised Sevov with the honor at a recent faculty meeting.  
"This is an incredible surprise and honor," said Sevov, upon learning of his award. "We assistant professors are looking ahead to keep pace with the associate professors and full professors. The professors in this room have really set the standard for us to follow in your footprints. And we hope to do the same for the next group of assistant professors."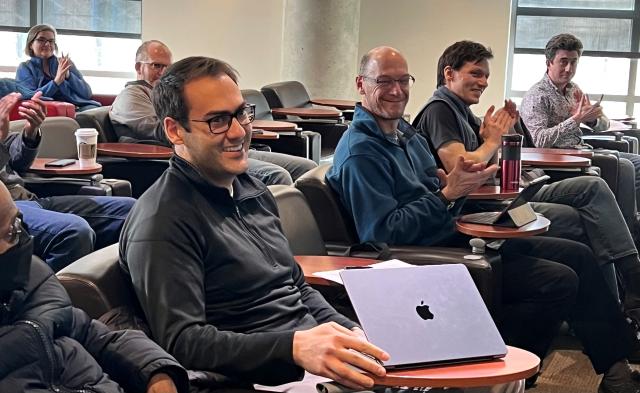 Sevov's research aims to develop strategies at the interface of homogeneous catalysis and electrochemistry for the sustainable utilization of electrical energy that is generated from renewable sources. Treating electrical energy as a reagent, he aims to demonstrate that toxic, explosive, or expensive reagents, which drive traditional synthetic organic processes, can be replaced with inexpensive and benign additives, thereby enabling organic synthesis to be performed in a safe, sustainable and scalable manner. His research also seeks to design large scale energy storage systems that can assist with the integration of intermittent electrical loads from renewable sources into the electrical grid.
"Coupled with his impressive body of research and innovation, Christo's dedication to education at all grade levels are the personification of the award," said Peter Mohler, interim executive vice president for research, innovation and knowledge. 
"Christo has expanded his work since he first interviewed here at Ohio State," said Susan Olesik, Distinguished University Professor and dean of natural and mathematical sciences. "He has really done exemplary work in a very short amount of time."
In her nomination letter, Claudia Turro said, "Professor Sevov has quickly established himself as an outstanding young investigator whose work is already having a significant impact within his field and beyond, as evidenced by his recent publications in Science, Nature Communications, JACS and ACS Energy Letters."  
Sevov joined Ohio State in 2017 as an assistant professor in the Department of Chemistry and Biochemistry. He also serves as core faculty in the Sustainability Institute. He received his bachelor's in chemistry from the University of Notre Dame, his PhD from the University of California-Berkeley and was a postdoctoral fellow at the University of Michigan. He has received the Department of Energy Early Career Research Award, a National Institutes of Health Outstanding Investigator Award and the 2023 Alfred P. Sloan Research Fellowship in Chemistry. 
The Early Career Distinguished Scholar Award is among the highest annual honors awarded at Ohio State. The university-level award honors three honors three assistant professors and early associate professors who show promise of making significant contributions to Ohio State and their field for years to come.    
Award recipients are nominated by their departments and chosen by a committee of senior faculty, including past award recipients. Distinguished Scholars receive an honorarium and a research grant to be used over the next three years. Learn more about previous Distinguished Scholar Award recipients.  
---
Quotes from Sevov's nomination: 
"While I am no fortune teller, I can guarantee you that Sevov will emerge as a leader in the field of synthesis and his original and impactful work will inspire a new generation of chemists to embrace electrochemistry as his reactions represent some of the most remarkable ones to be invented in this area," Phil Baran of Scripps Research.
"He is creative, dedicated and always willing to lend a helping hand in a collaboration, even if it means learning new analytical tools to help out," Shelley D. Minteer, The University of Utah.
"Christo has established himself as an innovative thinking and rigorous scholar, and he will be a leader in the domain of catalysis and electrochemistry for years to come," Shannon S. Stahl, University of Wisconcin-Madison.