Elissa Washuta receives 2022 Early Career Distinguished Scholar Award
April 27, 2022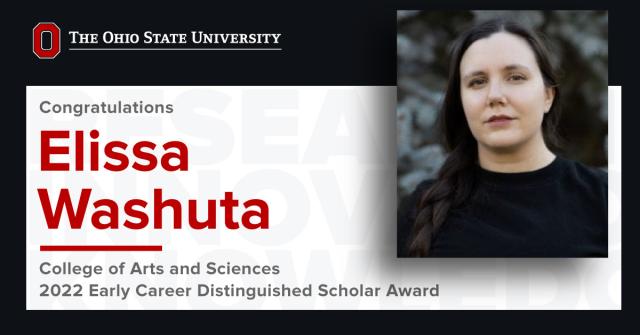 Elissa Washuta, assistant professor of English, received the 2022 Early Career Distinguished Scholar Award. The award was announced to a surprised Washuta by
senior leadership in the Enterprise for Research, Innovation and Knowledge at a recent Department of English faculty meeting in the College of Arts and Sciences.
Washuta is a literary nonfiction writer whose work incorporates creative expression, scholarly research and cultural criticism. Through her writing, Washuta explores experiences as a chronically ill person, survivor of violence and passionate researcher on subjects ranging from Native identity to non-fungible tokens (NFTs).
The College of Arts and Sciences is incredibly proud of Elissa Washuta's well-deserved accomplishment. Her creative non-fiction work is meaningful and has national impact and visibility with audiences in and outside of academia. Her most recent book White Magic is haunting and restorative — I recommend it most readily. The college congratulates Professor Washuta and is so fortunate that she is amongst our faculty."
Dana Renga
Dean of Arts and Humanities
Washuta is a member of the Cowlitz Indian Tribe. She is the author of Starvation Mode and My Body is a Book of Rules, named a finalist for the Washington State Book Award. With Theresa Warburton, she is co-editor of the anthology Shapes of Native Nonfiction: Collected Essays by Contemporary Writers. She has received fellowships and awards from the National Endowment of the Arts, Creative Capital, Artist Trust, 4Culture, and Potlach Fund. Her book White Magic was published in 2021 by Tin House Books, and listed among finalists for the 2022 PEN Open Book Award.
My primary goal as an essayist has always been to create something strange enough to feel surprising but familiar enough to be inviting. I believe the essay's capacity could be infinite, containing any combination of subjects and ordered using an inexhaustible number of formal approaches. Searching for the limits is demanding work, and at Ohio State, I've found my thinking pushed further by brilliant, imaginative students and colleagues. I'm excited to keep moving toward impossible essays."
Elissa Washuta
Early Career Distinguished Scholar Award
Washuta received a Master of Fine Arts in creative writing from the University of Washington and bachelor's in English from the University of Maryland.

The Distinguished Scholar Awards are among the highest annual honors awarded at Ohio State. In spring 2022, the university launched the Early Career Distinguished Scholar Award to honor three assistant professors and early associate professors who show promise of making significant contributions to Ohio State and their field for years to come.