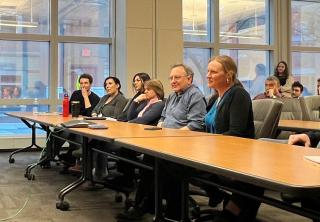 Christin Burd, PhD, associate professor in the Department of Molecular Genetics, College of Arts and Sciences, and the Department of Cancer Biology and Genetics, College of Medicine, has earned The Ohio State University 2023 Early Career Distinguished Scholar Award. Senior leadership in the Enterprise for Research, Innovation and Knowledge surprised Burd with the honor at a recent faculty meeting. 
"There are a lot of people in this room who have helped my science grow – from helping me to build mouse models to learning about skin cancer," said Burd upon learning of her award. "Those interactions have been truly instrumental and I truly appreciate my colleagues and trainees, so thank you."
Burd's research focuses on mechanisms to prevent melanoma and improve outcomes in older adults with cancer using molecular biology, biochemistry, cell culture, mouse models and human tissue samples. Recent work from her lab examines how aging of the immune system is impacted by different cancer therapies and may influence drug toxicity and patient outcomes. Her contributions to the field include the discovery of the first human circular RNA associated with disease, developing the p16LUC mouse model to track aging and spontaneous tumor formation in live animals, and establishing the mutant-specific role of oncogenic NRAS in melanoma formation. Burd has developed several state-of-the-art genetically engineered models that allow scientists to track the formation and progression of spontaneous cancers and test melanoma prevention strategies.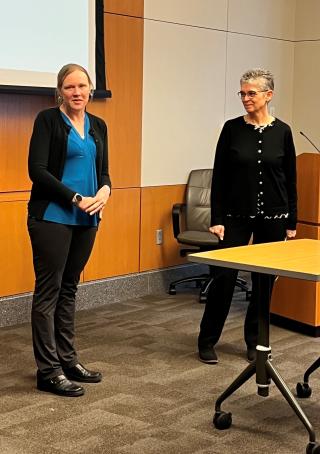 "I have had the honor of interacting with Christin as a scientist, mentor, educator and leader," said Peter Mohler, interim executive vice president for research, innovation and knowledge. "I can say without hesitation that she is one of the top researchers nationally in her field. She is also one of the most caring mentors I have worked with, a highly sought collaborator, a well-respected leader on campus, and an incredibly talented educator."
"You are an innovating at the intersection of cancer and aging, and providing spectacular insights – we are grateful for your work," said Susan Olesik, dean for natural and mathematical sciences in the College of Arts and Sciences, during the award presentation.
"You really are a beacon of top-notch excellence in research and teaching," said Harald Vaessin, chair of the College of Arts and Sciences molecular genetics department. "You show the very best of an academic institution, not only through top-ranked research, but also in training exceptional scientists for the future."
In the nomination letter, her colleagues stated, "Christin Burd is a rising star in the fields of cancer biology and aging. She is among a small group of researchers world-wide with a background in both the basic biology and clinical application of aging science in cancer populations."
Burd joined Ohio State in 2013 as an assistant professor in the College of Arts and Sciences Department of Molecular Genetics with a joint appointment in the College of Medicine's Department of Molecular and Cellular Biochemistry. She was the first in Ohio to receive the prestigious Damon Runyon-Rachleff Innovation Award, which provides funding to extraordinary early career researchers with high-risk/high-reward ideas. She also serves on councils for the National Cancer Institute's RAS Initiative, Pan-American Society of Pigment Cell Researchers (PASPCR), and American Federation for Aging Research (AFAR). Burd earned her bachelor's degree from Miami University in Microbiology and her doctorate degree from the University of Cincinnati in Cell and Molecular Biology.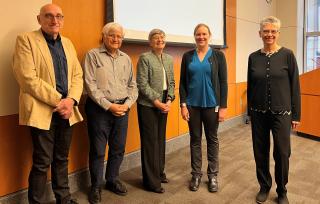 The Early Career Distinguished Scholar Award is among the highest annual honors awarded at Ohio State. The university-level award honors three honors three assistant professors and early associate professors who show promise of making significant contributions to Ohio State and their field for years to come.     
Award recipients are nominated by their departments and chosen by a committee of senior faculty, including past award recipients. Distinguished Scholars receive an honorarium and a research grant to be used over the next three years. Learn more about previous Distinguished Scholar Award recipients.   
---
Quotes from Burd's nomination:
"She is a creative, innovative researcher, with that special twist of also gearing her research to be so useful to the field, creating multiple resources from mouse models and cell lines to data sets and platforms. These tools spur collaborations, and drive the field forward, and so it is because of all these talents that I am delighted to nominate Dr. Burd for this award," Ashani Weeraratna, Johns Hopkins University.
"In particular, her development of a translational aging biomarker program, which includes the OSU Senescence custom Nanostring Codeset, has led to numerous impactful collaborations and should continue to improve diagnosis and treatment of patients with several cancer types," Glenn Merlino, National Cancer Institute.
"I am certain that Christin is on track to receive this award as she transitions to become a senior investigator. Christin is not only a phenomenal researcher, but also an incredible human being who values others and demonstrates leadership skills that make her an obvious candidate to be a Chair or Cancer Center Director at a later time in her career," John Byrd, University of Cincinnati.