Two interdisciplinary Ohio State research teams have been awarded $200,000 each in Catalyst grants through the President's Research Excellence (PRE) program in the 2022 cycle. PRE Catalyst grants support cross- and interdisciplinary teams to pursue large-scale, high-impact research that addresses emerging or existing challenges of national and international societal importance.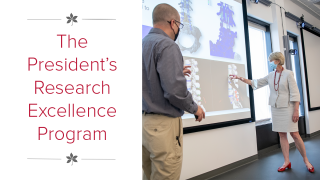 "When we invest in some of our own most promising research as a university, other funders take notice," said Dorota Grejner-Brzezinska, vice president for knowledge enterprise. "Programs like this help further attract partners and funding, supporting the passions of our researchers and accelerating that work where it can impact lives."
The PRE program is now accepting proposals for the 2023 cycle. Catalyst proposals of up to $200,000 are reserved for large cross- and interdisciplinary teams. Concept papers are due Jan. 6. Accelerator proposals of up to $50,000 are reserved for small teams formed to pursue curiosity-driven, novel, high-risk and high-reward research. These proposals are due May 5.
In the first two years of the program, nearly $3.3 million has been awarded to 43 teams of Ohio State investigators. Learn more and apply on the Office of Knowledge Enterprise  website.
---
2022 Catalyst Grant Recipients
Pathways for the Hydrogen Economy to Enhance Sustainability
Lead PI: Jeff Bielicki, College of Engineering
Co-investigators: Claudia Turro, Arts and Sciences; Jeffrey Jacquet, CFAES; Daniel Gingerich, Martina Leveni and Shang Zhai, Engineering; Cinnamon Carlarne, Law
Research Topical Area: Renewable Energy, Smart Grid, Energy Storage
Project Description: This project will investigate transitions to a hydrogen economy that enhance sustainability.  It is a multi-disciplinary, convergent collaboration of faculty from engineering, chemistry, law, policy, and sociology and positions Ohio State to respond to many basic, applied, and convergent opportunities.
Aging and Metabolic Plasticity of Adipose Tissue
Lead PI: Kristin Stanford, College of Medicine
Co-investigators: Natalia Higuita-Castro and Daniel Perez-Gallego, Engineering; Kristy Townsend, Medicine; Loren Wold, Nursing
Research Topical Area: Aging, Healthy Aging
Project Description: This project will investigate age-induced impairments specific to adipose tissue, their effects on inter-tissue communication, and whether or not promoting adipose tissue plasticity mitigates aging-induced risks for cardiovascular or metabolic diseases.