The Office of Knowledge Enterprise 
The Office of Knowledge Enterprise supports and empowers researchers in both curiosity-driven and large-scale convergence research through deliberate growth.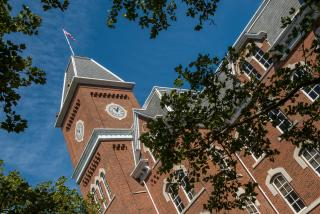 Founded in Spring 2021, the office works to bolster Ohio State's research reputation, expand the societal impact of our work and grow research talent. In positioning Ohio State for national leadership in research and creative expression, the office leverages collaboration with organizations and units across campus to integrate activities across the sciences, arts and humanities, engineering, policy, business, medicine and other fields.  
The Knowledge Enterprise team - which includes the Research Development Office, the Erdos Institute and the STEAM Factory - supports the university by offering programs, funding and resources to enable strategic growth of Ohio State's research portfolio. The primary objectives for the Knowledge Enterprise are to:  
Develop Ohio State's research talent pipeline by: building research leadership capacity; establishing professional development programs; and forming hiring plans aligned with university research and innovation goals.  
Strategically grow and diversify Ohio State's sponsored research portfolio by: identifying existing and emerging areas of opportunity for development and investment; supporting large-scale, complex, strategically significant federal proposals; and managing limited competitions. 
Empower faculty to pursue curiosity driven, use-inspired, and creative expression research by: promoting new, interdisciplinary team formation; equipping faculty with resources to pursue external funding; and removing internal barriers to pursue external funding.
Increase external recognition of Ohio State's research excellence by: developing strategies to increase the university's presence with national academies, boards and funding agencies.