The Ohio State University is partnering with colleges and universities in Ohio, Michigan, Illinois and Indiana to form the Midwest Regional Network to Address National Needs in Semiconductor and Microelectronics. Each institution's president recently signed a memorandum of understanding to form this network, which is intended to be open and is expected to grow beyond these initial institutions.

The network will collaboratively develop innovative solutions in higher education to best support the onshoring of the advanced semiconductor and microelectronics industry and address the industries' research and workforce needs.
The network was formed following a two-day workshop in April hosted by Ohio State. It is a recognition of the recent decision by Intel Corporation to build new, leading-edge chip factories in Ohio and to address the broader, national efforts to promote U.S. leadership in semiconductors and microelectronics.
Partner institutions will leverage existing research, curricular and experiential learning assets, capabilities and expertise within the region and grow the collective capacity to support the domestic growth of robust semiconductor and microelectronics innovation and supply chain ecosystems. Initial activities for the network include:
Develop a common, secure, information-sharing platform to make it easier to identify expertise, equipment, facilities and curricular programs of interest to facilitate joint programming, research, and/or outreach initiatives across the network.
Encourage regional collaborations and promote workshops around opportunities to pursue funding that will grow regional capacity to support identified needs across the semiconductor and microelectronics ecosystems.
Develop pilot mechanisms to connect existing research, facilities and curricular/training assets across the region to optimize their use to address regional needs and opportunities.
Current members of the network include:
The Ohio State University
Illinois Institute of Technology
Ivy Tech Community College
Kent State University
Miami University (Ohio)
Ohio University
University of Chicago
University of Michigan
University of Toledo
Columbus State Community College
Sinclair Community College

 

"This powerhouse network of research and academic excellence will fuel transformative scientific exploration and economic development while also preparing the workforce of the future. Through this collective approach we will maximize the potential of our individual institutions and make our Silicon Heartland vision a reality."

Ohio State President Kristina M. Johnson
Midwest Semiconductor Network in the news
Ohio State working with rival Michigan on semiconductor effort to help meet Intel-driven demand
Ohio State, Columbus State to partner with other Midwestern schools for microchip research
Ohio State joins 11 Midwest institutions to launch semiconductor-focused network
Crain's Cleveland Business
Case Western Reserve, Lorain County Community College part of new higher ed semiconductor network
UD, WSU, Sinclair join network to train semiconductor workers as Intel looms
As Intel plans $20B spend in Ohio, Dayton schools, others form partnership
3 Dayton-area colleges working with other Midwest schools supporting semiconductor research
LCCC joins 11 Midwest education institutions to launch semiconductor-focused network
OSU Joins 11 Midwest Institutions to Launch Semiconductor-focused Network
12 Midwest institutions launch semiconductor-focused network
YSU joins network focused on semiconductors and microelectronics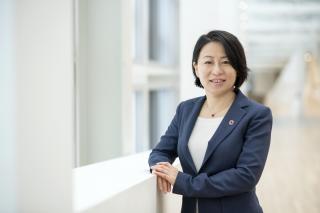 "This multibillion-dollar investment in the Midwest presents an incredible opportunity for our partner colleges and universities. We face global competition for talent to stay at the leading edge for research and development. Only through collaboration can we truly realize the promise this opportunity affords us."
Grace Wang, Executive Vice President for Research, Innovation and Knowledge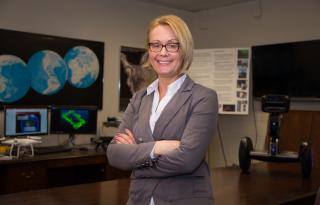 "Engaging this broad academic network has great potential to address the research and education needs of this burgeoning industry and shape the future economic prosperity of our region for generations to come." 
Dorota Grejner-Brzezinska, Vice President for Knowledge Enterprise
Enterprise for Research, Innovation and Knowledge
The Enterprise for Research, Innovation and Knowledge positions Ohio State to expand curiosity-driven research and creative expression activities, further develop our research community, including students, faculty and staff to be leaders both today and in the future, and grow the innovation ecosystem to address societal challenges.
Office of Knowledge Enterprise
The Office of Knowledge Enterprise works to strategically grow and diversify Ohio State's research portfolio by supporting and empowering curiosity-driven and large-scale convergence research and creative expression. The office offers programs, development, funding and resources while bolstering the university's research reputation, societal impact and research and innovation footprint.